As I sat at my dressing table preparing a variety of cosmetic bags with blushes, glosses, powders, and potions, our youngest son, one of two "vandals" that rule my home, inquired, "Mommy, are you going bye-bye?"
"Yes," I explained, "I am going to California for a conference, sweetie."
A pout drew across his cherub cheeks.  "Mommy, stay."
Stay.
As if a command by a trainer to a puppy… I wished I could comply.  Although the thought was fleeting – I look forward to the Mt. Hermon Writer's Conference above all others – and yet, I want to be available to all my children at all times.
Granted he'll be fine.
Still… I wish every so often, it was a reasonable command.
Still, I wish every so often, it was a reasonable command. #stay
Click To Tweet
The word has a haunting echo as of late.  Our oldest son, John… just left for Marine Bootcamp.  As I hugged him that last time before he boarded that bus my bones screamed, "Stay."
With each passing tick of the foster care clock, our youngest love transitions home to her birthmother's arms.  As I breathe in her angel baby smells my breaking heart cries, "Stay."
And here among the giant pines, dogwoods, and ferns -miles from home, I write stories and edit more edits and learn new tricks of my trade, I long to go home… and I long to "Stay."
I text home and inquire, "Have the vandals had a bath?" And the text that returns with the answer,  makes me laugh and cry… soon they will be too cool to romp naked in the yard, and a part of me can't help but hope they will be little much longer…
"Stay."
Stay with me.
Stay in my arms.
Stay little.
Stay free.
Please, stay.
Stay with me. Stay in my arms. Stay little. Stay free. Please, #stay
Click To Tweet
With a lump in my throat and an ache in my soul, I wandered the trail to my cabin and caught a glimpse of a sign in the gift shop window…. Remain in Me.  John 15:4
STAY.  
No matter.  No worry.  No leaving.
Though the unknown often grips me, fear attempts to follow all the places I wander, amble or run… I choose to remain in Him.
Here in this magical place of peace, the usual mindscape of folly, worry, grief, and nonsense, have mystically transformed. This wonderland, where I am not capable of manifesting the phenomenal escape I feel, I choose to "Stay."
Granted, sometimes it takes a grander focus… a pressing in and deliberate mantra… Stay.  Stay.  Stay.
Still, the promise remains.
Stay.
And He remains…
May your floors be sticky and your calling ordained.  Love, Jami
Remain in Me as I also remain in you.  John 15:4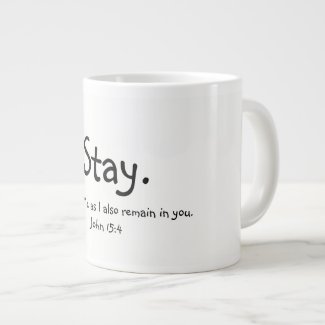 You might also like: Micro Monday: Babies, Zits and Stolen Cars
I just did an interview with Kelly Balarie. 
Her book is all about FIGHTING FEAR.
She interviewed me, although we have been friends for a couple of years, she knows I am different.
Today is a Monday if there ever was a Monday.
I have to go to the bank to redeposit a deposit that wasn't properly deposited the first time I deposited it.
The foster-love has an extended visit… her time with us is drawing to a close.
My battery in my car is dead.
I have a cold.
I am up three pounds.
There is a zit on my nose.
OH!  Also, the college-baby's car was stolen and totaled this weekend.  SO… I get to spend the afternoon at the Police Station, then the insurance office, and the impound, where the Nissan is being held for questioning…. continue reading
YOU MUST READ THE CHRISTIAN BURQA!
And check all things CURLY GIRL!  With my daughter Maggie's first Blog post!